A one-piece multi-use UHD digital camera, the new UHL-43 employs the same 4K-native sensors as the UHK-430/435 'Unicam XE' series cameras, and achieves the same performance. The camera employs the same operational workflow and remote control structure as Ikegami's UHK-430 and UHK-435 models. With its compact one-piece form factor, it is ideal for POV applications such as robotic studio production, sports, traffic and weather coverage and video surveillance. 4K signal outputs available from the UHL-43 include 3G-SDI Quad Link and 12G-SDI, allowing flexible system integration.
True UHD resolution with three 2/3-inch 4K-native CMOS sensors
The UHL-43 incorporates three 2/3-inch 8 megapixel CMOS sensors, each capable of capturing 4K-native 3840 x 2160 resolution images. It offers high sensitivity (F10 in 4K/60p) and very high signal-to-noise ratio. Unlike cameras using a single chip or pixel-offset technology, the three 4K-native CMOS sensors and prism optics provide real UHD resolution, superior color reproduction and no color aliasing.

4K/HD output
In addition to native 4K, the UHL-43 can deliver HD/3G-SDI signals for main output. This can be down-converted from the full 4K image or sourced as an HD cut-out HD from any section of the 4K original.
*3G-SDI Quad Link output is option.

HDR High Dynamic Range
The camera provides an HLG (Hybrid Log Gamma) mode conforming to ITU-R BT.2100 which is an international standard for High Dynamic Range. HDR enables the UHL-43 to deliver superbly detailed picture quality across the full range of brightness levels from deep black to peak white. With its wide color gamut, the camera also captures rich color.



12G-SDI interface
The camera has been designed to support 12G-SDI output interface as standard, ensuring flexible support for future trends in 4K system integration.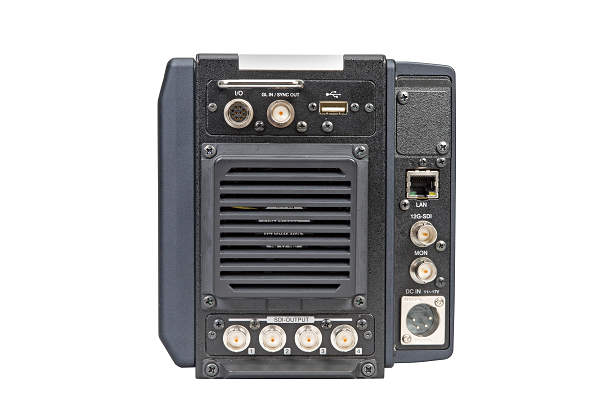 Camera Head
Image Sensor Three 2/3-inch 4K-native CMOS sensors, 8M pixel
Sensitivity F10 @ 4K 59.94p/HD 59.94i
F11 @ 4K 50p/ HD 50i
Optical System 2/3-inch R,G,B prism
Lens Mount 2/3-inch bayonet
Filter ND 1:CLEAR 2: 1/4 3: 1/8 4: 1/16 5: 1/64
CC A:3200K B:4300K C: 6300K D: CROSS E: OPTION
S/N Ratio 62 dB in HD mode (typical)
Limiting Resolution 2000 TVL (typical) @ 4K 59.94p
1000 TVL (typical) @ HD
Gain -6, -3, 0, +3, +6, +9, +12 dB
Gamma OFF, 0.35, 0.4, 0.45
Electrical Shutter 1/100, 1/120, 1/250, 1/500, 1/1000, 1/2000
General
Operating Voltage DC +11 to +17 V XLR 4pin (x1)
Ambient Temperature Operation: -20°C to +45°C (-4°F to +113°F)
Storage: -20°C to +60°C (-3.9°F to +140°F)
Relative Humidity 30 % to 90 % (non-condensing)
Dimensions W 145 x H 155 x D 169 mm (excluding protrusions)
(W 5.7 x H 6.1 x D 6.7 inch)
Weight approximately 2.6 kg (5.8 lb)
Input / Output
4K/HD-SDI Main Output BNC CN x1 0.8 Vp-p 75 ohm
12G-SDI: SMPTE 2082
3G-SDI: SMPTE 424/425 Level A/B
HD-SDI: SMPTE 292M
BNC CN x4 0.8 Vp-p 75 ohm (option)
3G Quad Link 2 Sample Interleave division: SMPTE
424/425 Level A/B
3G-SDI: SMPTE 424/425 Level A/B
HD-SDI: SMPTE 292M
HD-SDI Monitor Output BNC CN x1 0.8 Vp-p 75 ohm
3G-SDI: SMPTE 424/425 Level A/B
HD-SDI: SMPTE 292M
Reference (Genlock)
Input / Output BNC In/Out CN x1 0.8 Vp-p 75 ohm
Reference Input
HD: Tri-sync SMPTE 274M 0.6 Vp-p 75 ohm
SD: Black burst signal (NTSC: 0.286 Vp-p, 75 ohm PAL: 0.3 Vp-p, 75 ohm)
Reference Output
HD: Tri-sync SMPTE 274M 0.6 Vp-p 75 ohm
Lens HR10A-12pin x1, Compliant with BTA S-1005B standards
Remote Control Ethernet: 8P8C(RJ45) x1 *PoE Non-compliant
ICCP/ISCP: PROC05-8pin x1 (Option)
USB USB 2.0 Type-A 4pin x1
I/O HR10A-10 pin x1
DC Input XLR-4 pin
Analog Audio Input XLR-3 pin x1
Input LevelStep: -60, -50, -40, -30, -20, -10, 0, +4 dBu
Variable: ±10 dBu
Power Supply: OFF/+48 V